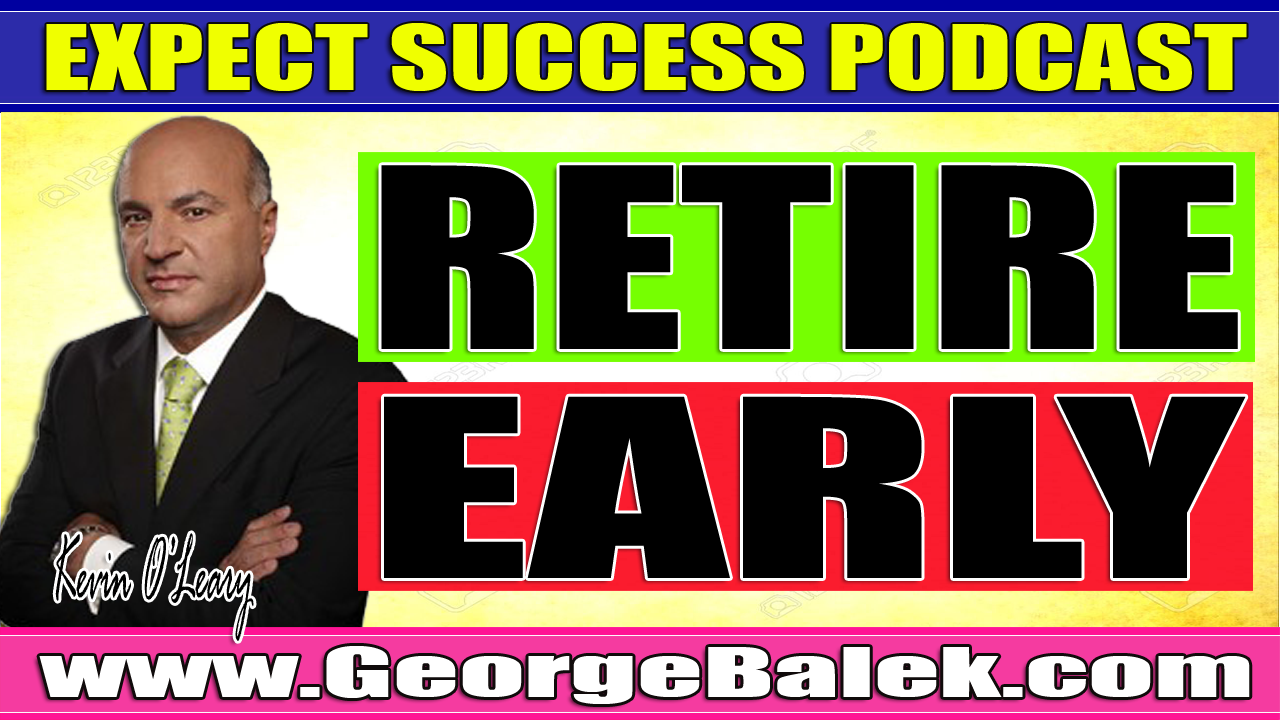 http://aboutJorge.com – Welcome to Expect Success at georgebalek.com!
Now, in addition to listening to our podcast, you can also view the video format on youtube at: http://georgetube.com
Subscribe to my YouTube: https://georgebalek.com/youtube
Here is My Podcast Page: http://buzzsprout.com/112740
Kevin O'Leary is a Canadian businessman, author and television personality. He co-founded O'Leary Funds and SoftKey. From 2004 to 2014, he appeared on various Canadian television shows, including the business news programmes SqueezePlay and The Lang and O'Leary Exchange, as well as the reality television shows Dragons Den and Redemption Inc. In 2008, he appeared on Discovery Channel's Project Earth. Since 2009, he has appeared on Shark Tank, the American equivalent of Dragons Den.
Today Kevin shares with you a philosophy I personally believe 100% in regarding why early retirement does NOT work. Listen to Kevin.
For more from Kevin O'Leary, simply search youtube and go to his website kevinoleary.com. His best selling book Cold Hard Truth On Men, Women, and Money, is available at his website and/or amazon.com.
Cold Hard Truth On Men, Women, and Money: https://amzn.to/2VZl5Ap
As the late great Jim Rohn use to say, you are the average of the 5 people you spend the most time with. Today you have been hanging out with Kevin O'Leary. Keep up the momentum and subscribe to our newsletter so you never miss another episode.
Newsletter: https://georgebalek.com/newsletter
If you enjoyed this episode please share it on social media and send it to someone that could use extra motivation in their life.
Please take 60 seconds to leave an HONEST review for the Expect Success Podcast on iTunes. Ratings and reviews are extremely important for me to make this show better.
https://itunes.apple.com/us/podcast/george-baleks-podcast/id1261439218
Finally, don't forget to subscribe to the show on iTunes so that you get updates and new episodes downloaded to your phone automatically.
Subscribe via iTunes: https://tinyurl.com/ydb4qgxt
Subscribe via Stitcher: http://www.stitcher.com/s?fid=147988&refid=stpr
Subscribe via RSS (non-iTunes feed) http://www.buzzsprout.com/112740.rss
Want to find out more about how I make a full-time internet income from home and how you can too. Visit: http://aboutJorge.com
Start your blog: https://georgebalek.com/startablog ( Help Included )
Read my blog: http://aboutJorge.com
Follow me on Facebook: https://georgebalek.com/facebook
Follow me on Twitter: https://georgebalek.com/twitter
Subscribe to me on YouTube: https://georgebalek.com/youtube
Gears I use to film my videos
Movavi Video Editor FREE Download: https://georgebalek.com/movavi
Canon EOS M6: https://amzn.to/2XtNfjy
FREE Stuff
Think and Grow Rich FreE-book here: https://georgebalek.com/ThinkAndGrowRich
Recommended Auto-Responder. Try it FREE: http://figresponder.com
Free Lead Capture Page System: https://georgebalek.com/leadcapturepage
Disclosure – these are affiliate links and I make a commission if you make a purchase with them.