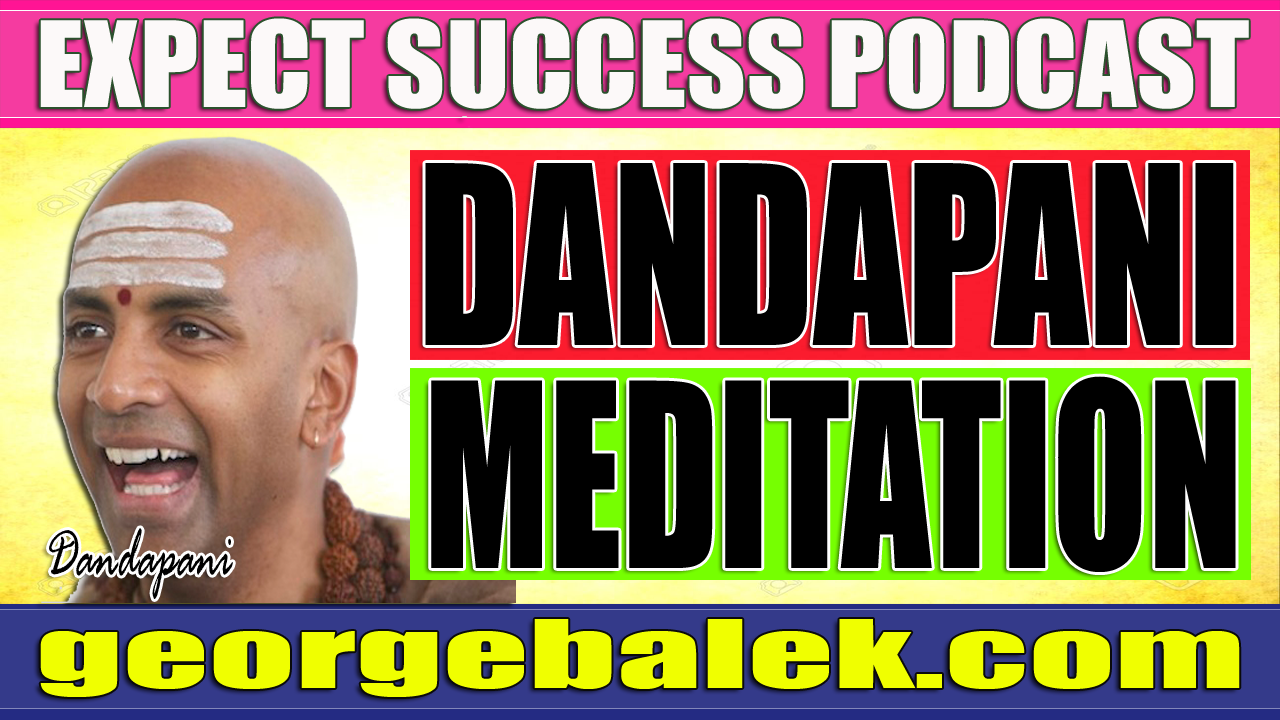 http://aboutJorge.com – Welcome to Expect Success at georgebalek.com!
Now, in addition to listening to our podcast, you can also view the video format on youtube at: http://georgetube.com
Subscribe to my YouTube: https://georgebalek.com/youtube
Here is My Podcast Page: http://buzzsprout.com/112740
Dandapani is a Hindu priest, speaker on self development and an entrepreneur. He grew up in Australia and after graduating with a degree in Electrical Engineering he left it all behind to become a Hindu monk under the guidance of one of Hinduism's foremost spiritual leaders of our time. For 10 years he lived a life of serious personal discipline and training at his guru's cloistered monastery in Hawaii.
When his vows expired seven years ago he chose to venture out into the world on his own. He made New York City his new home, determined to live and practice himself everything he teaches in the most invigorating and challenging city in the world. He works with a variety of individuals, companies and organizations around the world conducting training through workshops, retreats and exclusive coaching circles.
Approachable, practical and funny, he has a unique ability to simplify the understanding of the mind, make spiritual tools practically applicable in every day life, create systematic approaches to self development that allows for sustainable change and relate what he teaches to every day life. On todays episode Dandapani Shares The No. 1 Thing That Will Change Your Life Immediately. Listen to Dandapani.
For more from Tim Dandapani, simply search youtube and go to his website dandapani.org. Also, you can obtain the YouTube video transcript of How To Reprogram Your Subconscious, for like 99 cents at amazon.com. I will include a link in the show notes.
How To Reprogram Your Subconscious: https://amzn.to/2QcZxKy
As the late great Jim Rohn use to say, you are the average of the 5 people you spend the most time with. Today you have been hanging out with Dandapani. Keep up the momentum and subscribe to our newsletter so you never miss another episode.
Newsletter: https://georgebalek.com/newsletter
If you enjoyed this episode please share it on social media and send it to someone that could use extra motivation in their life.
Please take 60 seconds to leave an HONEST review for the Expect Success Podcast on iTunes. Ratings and reviews are extremely important for me to make this show better.
https://itunes.apple.com/us/podcast/george-baleks-podcast/id1261439218
Finally, don't forget to subscribe to the show on iTunes so that you get updates and new episodes downloaded to your phone automatically.
Subscribe via iTunes: https://tinyurl.com/ydb4qgxt
Subscribe via Stitcher: http://www.stitcher.com/s?fid=147988&refid=stpr
Subscribe via RSS (non-iTunes feed) http://www.buzzsprout.com/112740.rss
Want to find out more about how I make a full-time internet income from home and how you can too. Visit: http://aboutJorge.com
Start your blog: https://georgebalek.com/startablog ( Help Included )
Read my blog: http://aboutJorge.com
Follow me on Facebook: https://georgebalek.com/facebook
Follow me on Twitter: https://georgebalek.com/twitter
Subscribe to me on YouTube: https://georgebalek.com/youtube
Gears I use to film my videos
Movavi Video Editor FREE Download: https://georgebalek.com/movavi
Canon EOS M6: https://amzn.to/2XtNfjy
FREE Stuff
Think and Grow Rich FreE-book here: https://georgebalek.com/ThinkAndGrowRich
Recommended Auto-Responder. Try it FREE: http://figresponder.com
Free Lead Capture Page System: https://georgebalek.com/leadcapturepage
Disclosure – these are affiliate links and I make a commission if you make a purchase with them.