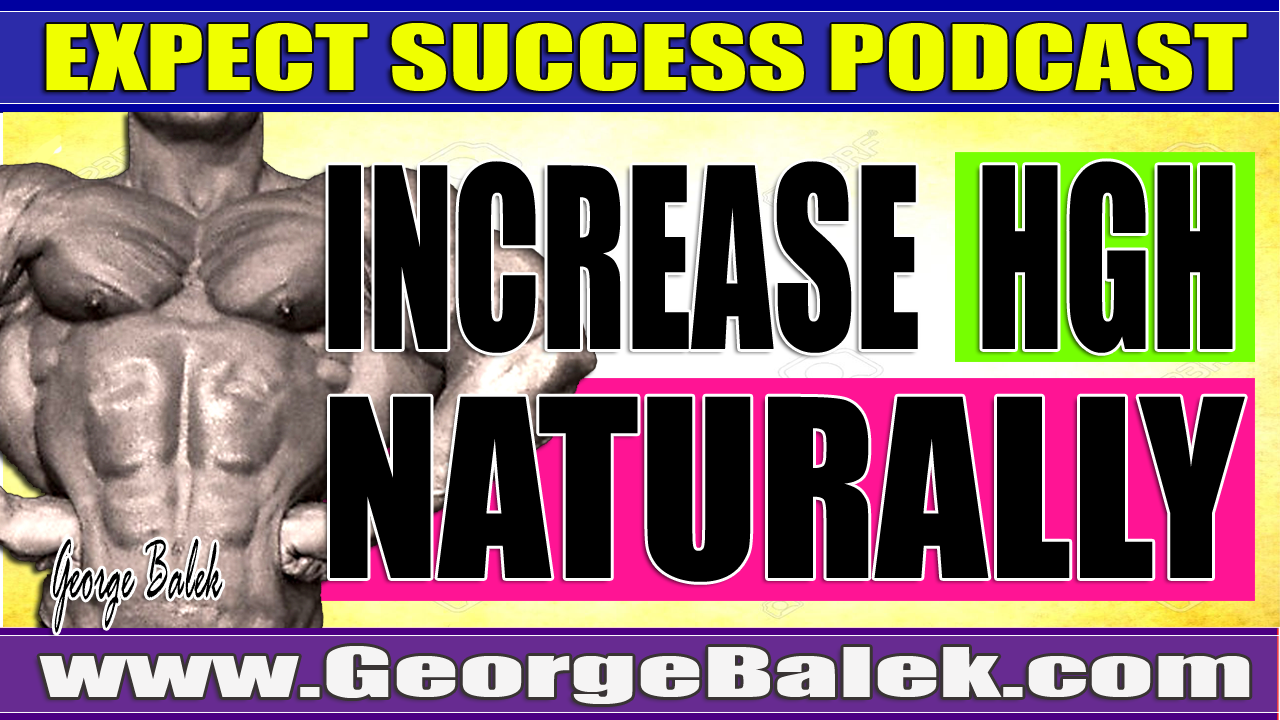 http://aboutJorge.com – Welcome to Expect Success at georgebalek.com!
Now, in addition to listening to our podcast, you can also view the video format on youtube at: http://georgetube.com
Subscribe to my YouTube: https://georgebalek.com/youtube
My Podcast Page: http://buzzsprout.com/112740
First off I would like to thank everybody for the great response to our last episode regarding intermittent fasting. Obviously, I am not the only one interested in intermittent fasting. So, I've decided to share another video I have particular interest in because it gets a little more into the particulars as far as when and how to exercise and what to eat in non fasting hours.
Gregory O'Gallagher is obviously into weight lifting. It's weightlifting and bodybuilding that actually drew me toward intermittent fasting to begin with. Especially the thought that a bodybuilder can increase his or her Human Growth Hormone (HGH) levels up to 2000% without supplements. Anyway, check out Gregory O'Gallagher's video and let me know what you think in the comments below. Thanks!
For more about Intermittent Fasting, simply search youtube. There is a ton of free content that really gets into individual experiences and even the science of intermittent fasting. I'll include a link in the show notes to some great reading and audio content as well.
Intermittent Fasting: https://amzn.to/2ZHbrRd
As the late great Jim Rohn use to say, you are the average of the 5 people you spend the most time with. Today you have been hanging out with Gregory O'Gallagher. Keep up the momentum and subscribe to our newsletter so you never miss another episode.
Newsletter: https://georgebalek.com/newsletter
If you enjoyed this episode please share it on social media and send it to someone that could use extra motivation in their life.
Please take 60 seconds to leave an HONEST review for the Expect Success Podcast on iTunes. Ratings and reviews are extremely important for me to make this show better.
https://itunes.apple.com/us/podcast/george-baleks-podcast/id1261439218
Finally, don't forget to subscribe to the show on iTunes so that you get updates and new episodes downloaded to your phone automatically.
Subscribe via iTunes: https://tinyurl.com/ydb4qgxt
Subscribe via Stitcher: http://www.stitcher.com/s?fid=147988&refid=stpr
Subscribe via RSS (non-iTunes feed) http://www.buzzsprout.com/112740.rss
Want to find out more about how I make a full-time internet income from home and how you can too. Visit: http://aboutJorge.com
Start your blog: https://georgebalek.com/startablog
Read my blog: http://aboutJorge.com
Follow me on Facebook: https://georgebalek.com/facebook
Follow me on Twitter: https://georgebalek.com/twitter
Subscribe to me on YouTube: https://georgebalek.com/youtube
Gears I use to film my videos.
Movavi Video Editor FREE Download: https://georgebalek.com/movavi
Canon EOS M6: https://amzn.to/2XtNfjy
FREE Stuff
Think and Grow Rich FreE-book here: https://georgebalek.com/ThinkAndGrowRich
Recommended Auto-Responder. Try it FREE: http://figresponder.com
Disclosure – these are affiliate links and I make a commission if you make a purchase with them.